Special Events The Florida Governor's Cup

06/16/09
The Florida Governor's Cup

The Florida Governor's Cup was commissioned by then Governor Haydon Burns and was first awarded to Wayne Reutimann in 1965. The Cup was created to pay tribute to Al Keller. Al Keller migrated from White Plains, NY to Tampa, FL in 1948 where he struck up a friendship with Frank Dery, Jr. Keller became a partner with Dery in the speed equipment business and also drove Dery's Modified race cars at Plant Field, Speedway Park and Phillips Field as well as many other tracks throughout Florida. He set many track records in Dery's famous "Flame 7."
In 1949, Keller began competing off and on in NASCAR's Strictly Stock (later Grand National) division. Between 1949-1954, he competed in 29 races, winning twice. One of those wins still stands alone though. Even with Toyota's entrance into NASCAR's premiere division in 2007, Keller still has the only NASCAR GN/Winston Cup/Nextel Cup win in a foreign make of car. NASCAR held a Grand National Division road race at Linden Airport in New Jersey in 1954. In order to get a full field of race cars, Bill France, Sr. decided to allow foreign makes to compete. Keller won that race in, of all things, a Jaguar.
Later in 1954, Keller began to turn his attention to the Championship Car Series of AAA and USAC. Keller raced Champ Cars, Sprints and Midgets over the next several years and also raced in the Indianapolis 500 scoring a best finish of fifth in 1961. Sadly, later that year, Keller would lose his life in a crash at the Arizona State Fairgrounds. When Dery established the Governor's Cup in 1965 at his track, Golden Gate Speedway, he decided to name the trophy to honor the memory of his late friend Al Keller.
There are many Super Late Model races in the State of Florida nowadays, but none carry the prestige of the Annual Florida Governors Cup race which has been run at FASCAR's New Smyrna Speedway since 1988. The Cup continues to be the premier race of the season through all these years in spite of set backs and the immense changes the state has gone through.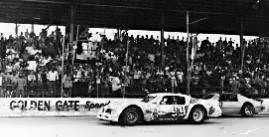 When Frank Dery, Jr. opened Golden Gate Speedway in Tampa in 1961, he began lobbying NASCAR for a Grand National division race at the 1/3 mile track. NASCAR ran 80-90 races a year back then, most of them on short tracks. Dery received his wish on November 11th, 1962 as NASCARs premiere division contested a 200 lap race on a cool, clear Sunday afternoon. The race was actually the second race of the 1963 GN season. This was back in the time where NASCAR began their new season with several races actually being held in the previous year in November-December, including the Riverside 500.
The race at Golden Gate Speedway would be just one of the 200 wins Richard Petty would earn over his illustrious career. Petty led 158 of the 200 laps in his 1962 Plymouth to take the win over Petty Enterprises teammate Jim Paschal. Joe Weatherly, Jimmy Pardue and Tommy Irwin rounded out the top five while Richards brother Maurice Petty was sixth. Rex White led 41 laps but faded to a 13th place finish. Ned Jarrett broke a rear end and did not finish while Fireball Roberts crashed and brought out just one of two caution flags on the day. The entire race was run in just one hour and ten minutes.
Only two locals were in the race. A very young Buzzie Reutimann drove a 1960 Chevy to a tenth place finish while Orlando's Stan Parker dropped out early in his 1960 Dodge. Although the race was a huge success drawing a crowd of 6,000 people, NASCAR opted not to return the following year. Feeling slighted, Dery figured he could do better on his own and decided to close out his 1963 season with a 200 lap race for the local Late Models, an unprecedented move at the time.
The first race drew a stellar field and consisted not only of the local Tampa Bay area drivers but drivers from around the state and a few from out of state. The $2500 first prize attracted a who's who of Late Model racers. When the dust settled, local hot shoe Dave McInnis took the win followed by brothers Wayne and Buzzie Reutimann. The only out of town driver to crack the top ten was Paul Connors of West Palm Beach.
The word was out though, a great race track in Florida running a great purse. The 1964 race drew an incredible field of cars from all over the Southeast and the race got its first out-of-state winner in Chattanooga, Tennessee's Freddy Fryar who topped McInnis and St. Pete's Benny Moore. Bob Burcham of Georgia and Joe Lee Johnson of Tennessee also scored top ten finishes.
In 1965, Dery and his announcer man Gordon Solie convinced Florida Governor Hayden Burns to commission the Florida Governors Cup race to be held at Golden Gate Speedway on the first Sunday of November each year. Burns, who was a race fan, had no problem with the request and the rest is history. Dery commissioned a special Governors Cup trophy to be built. The Governors Cup would not be awarded directly to the winner though. The drivers name would be added to the trophy each year and it would be on display at the track. The winning driver would then be awarded a special plaque to commemorate his win.
The first race for the Cup in 1965 would be a barn-burner and would involve one of the greatest legends in Stock Car Racing before he became a star in NASCAR. Bobby Allison had run a NASCAR Sportsman point race in Georgia on Saturday and missed qualifying. Allison started dead last in his 25 lap qualifying heat and won it, earning the 22nd starting position (the top 20 were always locked in from Saturday time trials).
Wayne Reutimann grabbed the lead early in the race while Allison methodically drove his 56 Chevy toward the front of the field. Allison caught Reutimann with about 75 laps to go and the two raced side by side the rest of the way, Reutimann on the inside, Allison on the outside with Reutimann winning the race by a fender at the checker. "Usually I don't remember much about races that I didn't win, but that one stands out", said Allison. "Wayne drove me as clean as could be and I probably never had so much fun losing a race", he said.
A tradition had now been born and the 1966 event attracted a field of well over 100 cars. Bobby Brack would become the first South Florida driver to win the race that year while 1967 would see East Coast veteran Dumont Smith take a last-minute ride to a race victory. Young Gary Balough would make it another South Florida victory in 1968 giving legendary car owner Marty Handshaw his only Governors Cup win while Robert Hamke would drive a car he and his father built to victory in 1969 starting a legendary career as both a driver and race-car builder.
Columbus, Ohio's Don Gregory in the popular Jegs sponsored car was a fixture at nearly all the the Governors Cup races during the early years and he would pick up his only win in 1970. The 1971 race would see a driver from the Tampa area finally back in victory lane as local legend Jack Arnold paced the field all 200 laps. The win was somewhat odd for Arnold as he was a staunch Ford man, but drove a Chevy Chevelle to the win on that day. Also in the field that day was a weird-looking, weird-sounding green Chevelle out of Michigan being driven by a guy named Ed Howe. Although he didn't finish, the car turned some heads especially with its 180 degree headers that made it sound more like an Indy car than a Late Model. In the coming years, everyone would find out just who Ed Howe was, not just as a top-notch driver but as a car builder that would change the face of Late Model racing throughout the USA.
Howe would taste victory in the Governors Cup for the first time in 1972 and begin to build his legend. Wayne Reutimann became the first two-time winner in 1973 driving for veteran Orlando car owner Lewis Green. Then it was time for Ed Howe to dominate the scene with victories in 1974, 75, and 76 giving him an incredible four wins in five years over absolutely stellar fields of cars. The cars he won in were not his own personal cars, but cars he built for other drivers then borrowed come time to race in Florida. He won one of the races in a car that had been campaigned by Mike Eddy and another in the famous Bluebird that had been driven during the year by Bob Senneker. Had he not retired from driving to concentrate on building race cars, there's no telling how many Governors Cups Ed Howe might have won.
The 1976 race also produced probably the scariest moment of any Governors Cup race. Robert Hamke and Mark Malcuit tangled coming off turn four and Hamkes car sailed into the air taking down the catch fence and hitting the flag stand. Veteran flagman Johnny Hicks was knocked out cold, but came to after a few tense moments and refused to leave his perch after repairs were made even though he was in obvious pain.
Hamke brought the same car back to compete with in 1977 but things didnt look like they were going to be much better than the previous year. After qualifying for the show on Saturday, Hamke was practicing during the late morning on Sunday when the brakes failed on his machine and it sailed off turn three into the dirt piles about 100 yards off the track. Undaunted, his crew made repairs and he was able to start the race. In what most consider the biggest upset ever in the Florida Governors Cup, Hamke drove his home-built Chevy Nova around both Bob Senneker and Ed Howe's brand-new Camaros to score an incredible win. Hamke received a standing ovation from the crowd while Howe and Senneker were left shaking their heads. Both Hamke and Howe retired from driving soon after but continued to compete, not as drivers, but as car builders.
1978 would be the final Governors Cup, at least for awhile, at storied Golden Gate Speedway and who else to take the win but probably the most well-known short track Late Model racer of all time, Wisconsin's Dick Trickle. Dick Anderson looked to have a shot at the win that day, but his turn would come a few years down the road.
Noise problems forced by politicians trying to make a name for themselves caused The Gate to close temporarily in 1979 but Frank Dery allowed the race to continue at the track across the bay, Sunshine Speedway in St. Petersburg. Big Jim Fenton would take yet another backyard special to the win over the big names that day. By the way, this race was the only Governors Cup to be broadcast live on radio throughout the State of Florida.
Continuing problems with the politicians kept Golden Gate Speedway closed and no race was held in 1980. After some conditions were met, the track re-opened in 1981. Dery wanted nothing to do with running the track anymore, so he leased the facility to Don Nerone. The traditional Saturday-Sunday format was no more as the noise laws now forbid racing on Sunday, so Nerone opted for a one-night event on Friday.
The cars and stars were back and yet another short track legend raced his way to Governors Cup fame as Mike Eddy posted the win over Howe and Trickle while track LM champ Leroy Porter was fourth over veteran Largo, FL driver Dave Scarbrough. Local drivers would take the next two Cup wins as Jimmy Cope got his name on the trophy in 1982 while Porter would take a popular win in 1983 over a field which included most of the top names of Late Model short track racing. Eddy, Mark Malcuit, Denny Nyari, Dave Weltmeyer and the 0 Hero Tom Jones all had a top ten finish in this race.
Unfortunately, the 1983 race would bring a sad end to Golden Gate Speedway. Continuing noise issues, politicians with personal agendas and the upcoming expansion of I-75 south from Ocala finally put an end to the premiere short track facility in Florida. You can still visit the track and feel the vibes today by stopping at the Big Top Flea Market on Fowler Ave. in Tampa just west of the I-75 interchange. This is the spot where the famed race track once stood.
From 1984-87, the Cup itself was not contested for. In 1988 Clyde Hart approached Dery about resurrecting the race at his wildly popular high-banked half-mile track that attracted a who's who of racers each February for the annual World Series. Why not run the Governors Cup race at New Smyrna every November and bring the tradition back alive? Dery had no problem with the idea and the Al Keller Memorial trophy has had a home ever since at New Smyrna Speedway.
This race has one thing that the others don't tradition. Tradition that can be traced back to 1962 when most tracks in the state were just pasture or orange groves. Florida's finest Late Model Champions have their name inscribed on the Governor's Cup along side of Buzzie Reutimann, Dick Trickle, Leroy Porter, and the other great racers who have earned the right to be called Florida's Late Model Champion.